"Ahoy" to all the blue-water cruisers up there on the "north island" (aka Australian mainland…and beyond). Have you ever thought about cruising to Tasmania? We have proof from those who have that it's a "bucket list" voyage and a dream experience.
What's appealing about cruising to Tasmania?
Tasmania has been one of those sought-after cruising destinations for a long time. It offers an amazingly diverse coastline, excellent cruising grounds, great anchorages and marinas, friendly locals and plenty of places to wine and dine.
Also, being a "boaty" island you'll find that Tasmania's coastline is dotted with friendly boating communities, so there's plenty of local expertise and equipment should you need them.
You'll probably agree that life's too short to ignore life's cruising treasures, so we've put together a few suggestions from the experts to help make your cruise to Tasmania a rewarding reality. Oh, and don't forget to add Margate Marina to the itinerary… at least for a few days!
Best time to cruise to Tasmania
Summer is the most popular season to cruise to Tasmania for good reason. Conditions crossing Bass Strait are generally not extreme and weather in Tasmania is fair to stunning. Summer's maximum temperatures vary between 17 and 22 Celsius and it's normally quite dry (winter being our rainy season).
Experienced cruisers suggest that the best time to cross Bass Strait in comfortable conditions is normally January/February. Always check conditions and warnings through the Australian Government Bureau of Meteorology site  and refer to other online weather sites such as Windy.
Distances crossing Bass Strait;
 From Eden (southern NSW) to St Helen's near the top of Tasmania's east coast it's just less than 300NM.
From Port Phillip Bay's Queenscliff, it's around 200NM to George Town on the mouth of the Tamar River (and about 26 NM up river to Launceston).
Bass Strait stopovers such as King Island, the Hunter Islands and the Furneaux Group, are popular and rewarding if you make the time and provide great reasons to break up the cruise to Tasmania into day sails with many anchorages to shelter and explore from.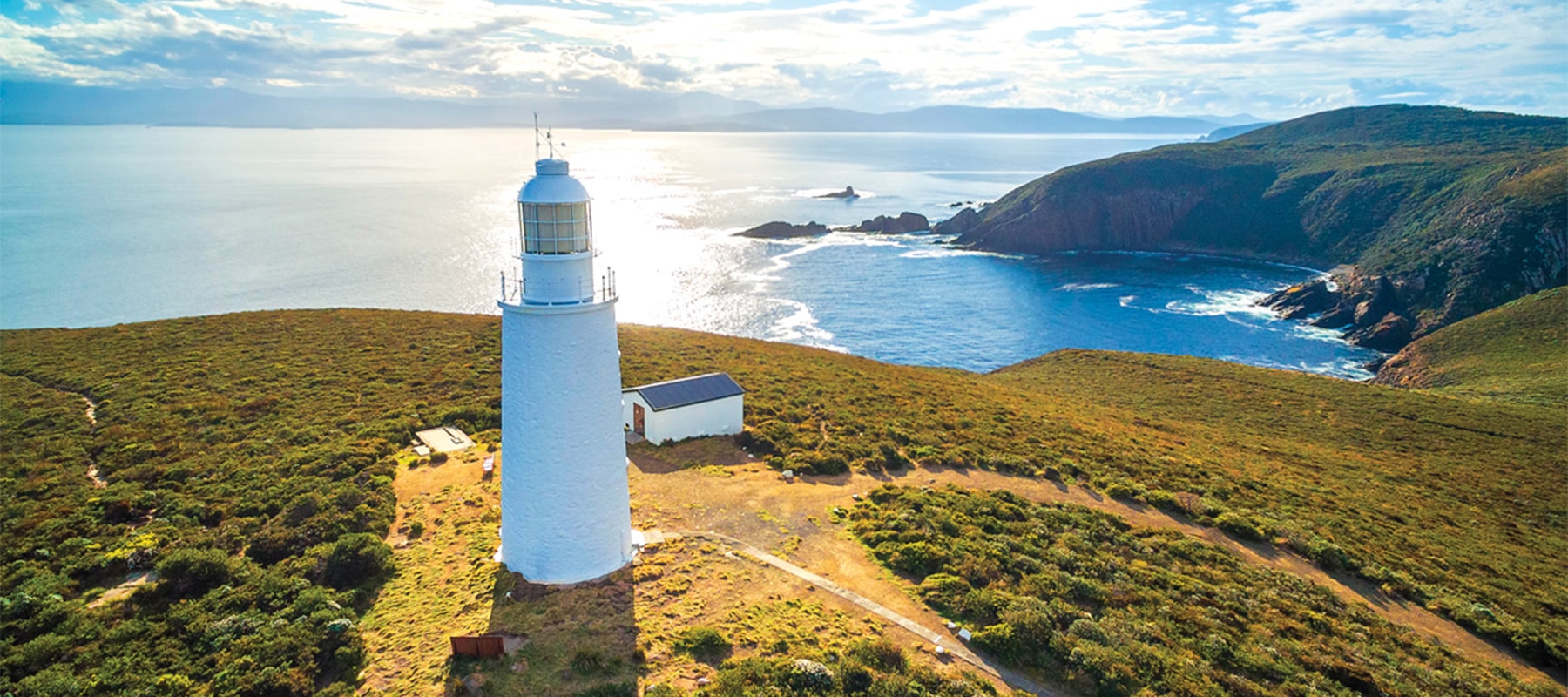 Bruny Island Image Credit: Yachting World, Alamy / Piter Lenk
Preparing your boat for the trip to Tasmania
It may sound obvious but every blue water skipper should ensure the vessel is ship-shape; the mast, sails, reefing systems, running and standard rigging, deck gear, jacklines, tethers, anchors, rudder, emergency steering and hatches.
Down below is as important; check the security of handholds, floorboards, engine, batteries, pumps, through-hull fittings, steering linkages, tools, etc.
Make a list of where important items are stored. Make sure the first-aid kit is in completely stocked, the EPIRB is up-to-date and the radios, life raft, flares, lifejackets and navigation gear are in good order.
Make sure all on board are familiar with emergency procedures, safety equipment and first aid.
Is your vessel safe to cruise? Marine and Safety Tasmania (MAST) provides an excellent comprehensive checklist for vessel and equipment. They also share that the secret behind every successful cruise is careful planning:
Make sure your boat is suitable for the trip being undertaken
Plan your trip carefully
Plan your trip with the crew weeks or months in advance
Familiarise yourself with Marine Charts of the areas you're cruising to more than once
Obtain regular weather updates and be flexible prior to leaving
Ensure you have enough fuel and food – work out fuel per nautical mile or per engine running hours and plan a menu
Make sure you have the correct safety equipment for the area of operation. Ensure you and your crew are familiar with operating the gear and that it is stored appropriately and is accessible
Have on board a recognised anchorage guide as a "bible" and seek local knowledge
Log on to coastal radio and tell someone where you are going
Note: Some areas are National Parks and will require a Parks Pass. Via the MAST website, Biosecurity Tasmania reminds visitors to Tasmania of the rules regarding bringing restricted items into Tasmania. Those items include fruit, vegetables, seafood, animal products, bees, comb honey, plant material, soil and seeds.
For more comprehensive information including insights into cruising the different coastal regions, public moorings and berthing facilities, fuel services, restricted jetty areas, VHF radio, biosecurity, fish farms and useful links, visit the Cruising Tasmania section of the MAST website.
Read up on cruising advice from the seasoned salts
Grab a cuppa and read through MAST's suggested useful publications including:
Speaking of seasoned salts, there's also a very useful and well-informed "Cruising Guide for Tasmania" by Jack and Jude who are well-known and well-respected sailors. They have almost 50 years' blue water cruising experience around Australia, including many years cruising around Tasmania.
---
Happy planning and we hope to see you down south at Margate Marina, once you reach the spectacular D'Entrecasteaux Channel!
Feature Image Credit: Yachting World, Alamy / Alistair Scott